"Time is your friend; impulse is your enemy". By John Bogle.
N
ever be impulsive with the trades. No matter good or bad. Only gamblers stay impulsive during the time of trading. So first thing & most important step of being successful is, killing that Gambler self forever & injecting a Professional Trader mindset.
Example of being impulsive
W

hen something bad happens:

Say if you enter trade as buyer & set your mental stop loss at 10 & hard stop at 20. Market suddenly moved against you & you are currently at -15. How you are going to feel now?? Obviously you will get freaked you. Even if its hits your stop loss. To recover position you will enter as a seller now. Once you did that. Now you will see that market is rising. Feeling more freaked out? Answer is Yes!
W

hen something good happens:

Say you enter as a buyer, you are expecting 10 points in your favor. But on sudden it moved 30 points in your favor, more than expected! You are so happy & excited, so added more position. Now you see that market falling since you enter 2

nd

time. How it feels? Very stupid!
Basically, we become impulsive, when something happens out of our expectation, good or bad. When it happens, we get stunned for a moment & we couldn't react properly.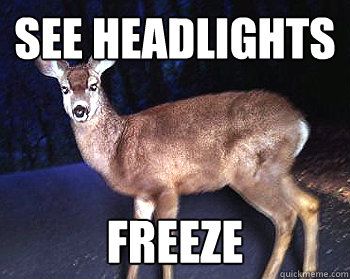 I
t's like deer caught in the headlights . We need to stay calm & use the situation on our favor. Say if market moved 30 points more than expect, close the trade. Be happy. If market falls 15 pips against you, close the trade, still Be Happy as you are not losing more.
2. Being Fluid & Positive Correlation:
A
successful trader is a person who correlates him/herself with the market.
It's not about being right; it's about following the market.
Ultimately it's the boss. Your job is following it wherever it moves, up or down.
S
uppose, you figure with your calculation that market is going to fall from a certain resistance, but it didn't, you keep adding position every time it moves higher hoping that I might fall & fetch you great reward. But NO! As it keeps rising you are increasing your risk. It's an egoistic behavior.
When you trade, always keep your ego in your pocket.
T
hat also suffices, never be rigid with your stops or take profit. Say market you are targeting for 50 points. But market moved 30 pips & now falling, no need to be so hard with it. Just trail or close position. Don't hope much. If you see that your trade is going against you, instead of holding it up to its hard stop, good to close it early, at least you will save some money.
Be fluid with the market.
T
hese two mindsets are definitely not an easy job. Remember market is always same; But you are the key.
Trading depends on the trader not on the strategy.
That's why they say 90% trader fails, because 90% doesn't enough mental stability to do this job on regular basis. But practice makes thing perfect, more you will learn to tame yourself, better results you will get.
"Don't practice until you get it right. Practice until you can't get it wrong"